European Designs Thrive in the California Sun
Take advantage of the beautiful West-Coast weather all year round with fantastic outdoor furniture from Vondom. 
Furnitalia is your source for your modern Northern California home … both indoors and outdoors.
Fresh Air Meets Fresh Style
VONDOM REVOLUTION
Guided by a firm commitment, passion and respect for design, Vondom has become a leading outdoor furniture design brand in just a decade.
This has been achieved with a strong business strategy guiding every aspect of the company, from marketing, production and quality through to design and promotion. Most important of all, however, is our sustained commitment to R&D&I, a clear example of innovation that, together with the professionalism of our workforce, has managed to create synergies for success.
What does the future hold? Remaining committed to our core values and, above all, seeking ways to chart new paths to excellence as Vondom Revolution, our sustainable commitment to a better world.
Let Your Love of the Sun Shine Through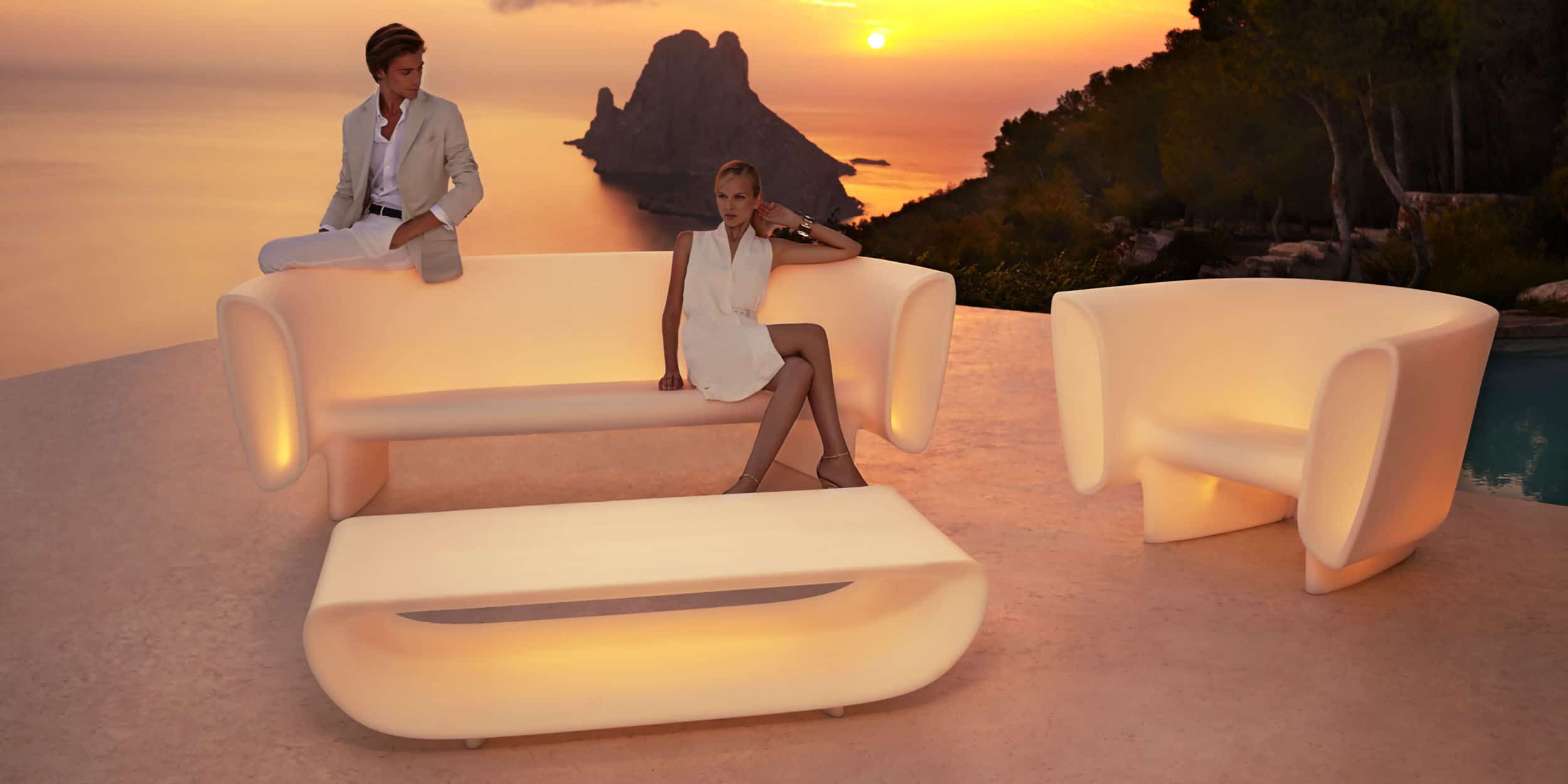 The Vondom Design Philosophy
Our challenge is to give life to each of our pieces, achieving a natural dialogue between environment and form. The result is the creation of spaces that reach a new dimension, where simplicity is the new sophistication.
Design culture is key to successfully transferring this philosophy to our creations and guides every step we take. We understand design as a point of boldness – changing and chameleon-like. It is a tool that allows us to innovate without losing functionality.
So, true to our ideas, we make each of our collections unique by collaborating with renowned designers and using the most advanced production techniques, all supported by high-quality, weather-resistant, sustainable materials.
Vondom is an attitude; a lifestyle.
LOUNGE CHAIRS &

ARMCHAIRS
Modern function & classic lines yield basic seating with a fresh look. The IBIZA line (shown here) brings style and tranquility to outdoor seating. Designer Eugeni Quitllet gives traditional cane chairs a modern revision.
The curved back and seat cradle you in comfort, while uniformly spaced slats welcome cooling summer breezes. Crafted from 100% recycled plastics, the Ibiza is lightweight and stackable, the perfect outdoor chair for a cozy balcony in the city or a lakeside deck.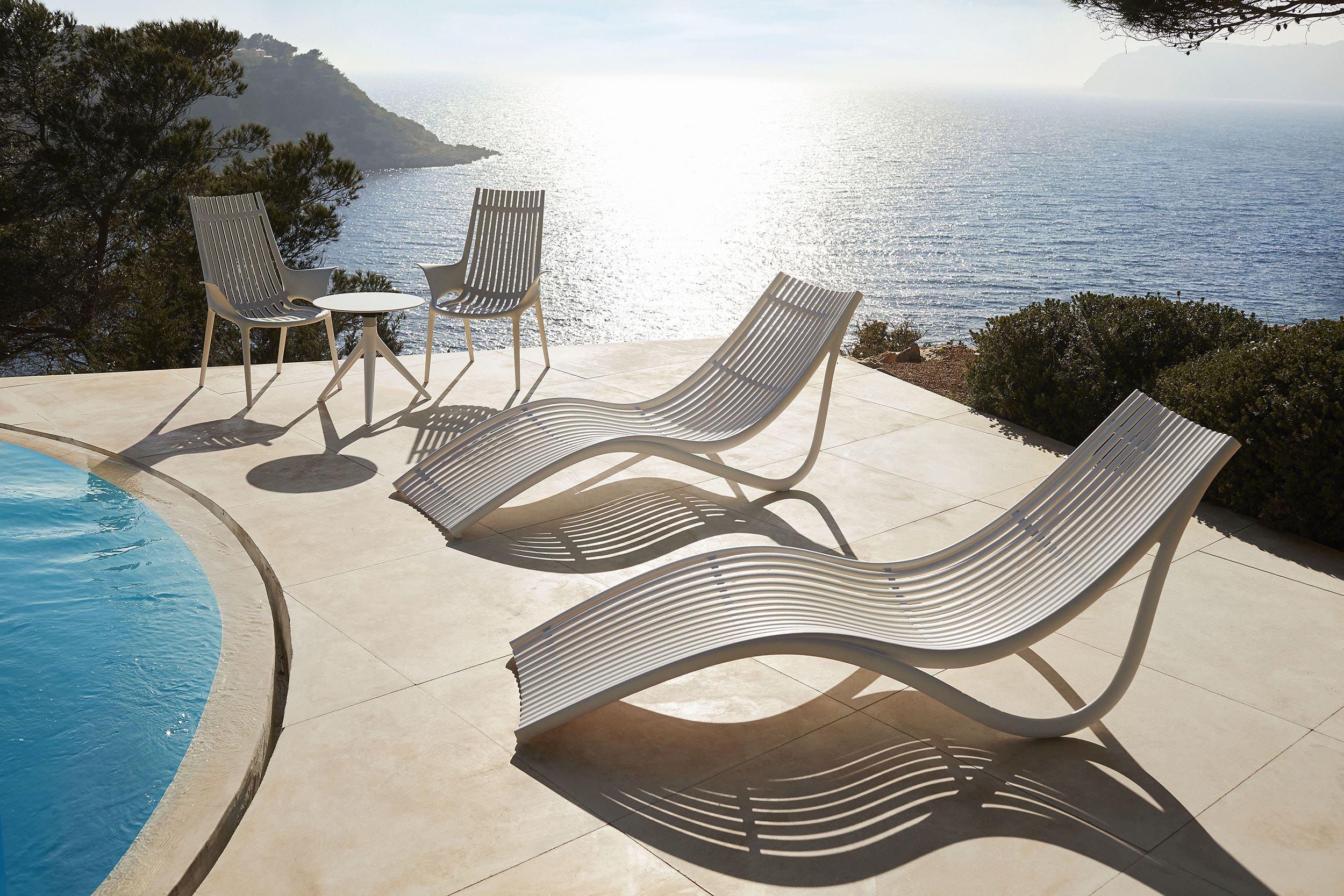 The FRAME Collection (shown here) comes from generating serene and timeless shapes using the framework as elementary geometry. The endless possibilities offered by the material using advanced technology, was the motivation to explore the limits. The FRAME section is flared creating pieces of visual lightness while still cathegorical and resistant. FRAME meets a wide range of needs in any outdoor space thanks to its variety of pieces.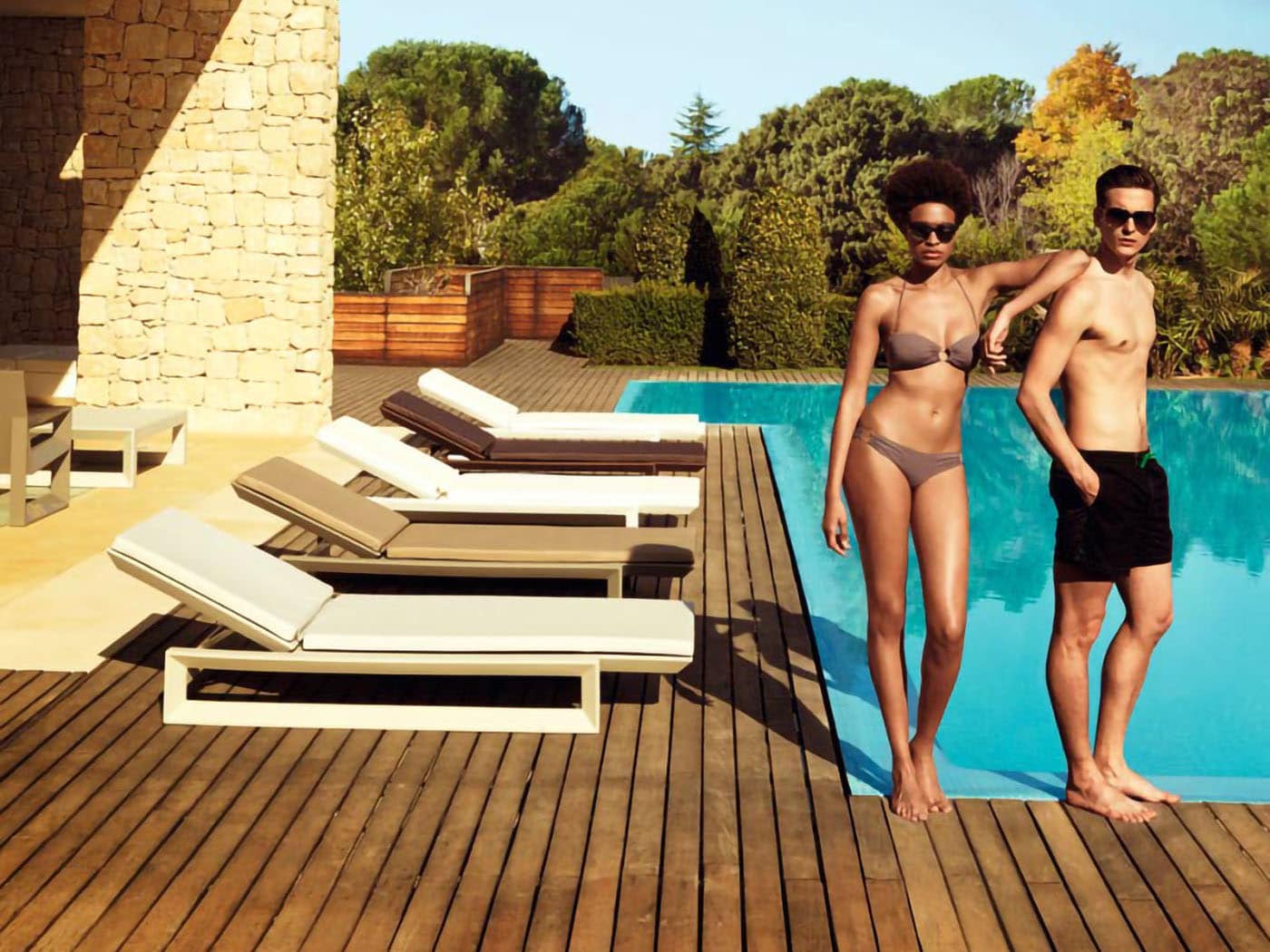 The ULM collection (shown here) seeks unity within its design and that of other products, combining amongst diverse elements that form a complete ensemble.
The sofa, like the chairs, daybed, coffee table, and ottoman embody rigid and resilient structures for rest and support that provide total comfort. Much like the name Ulm, its soft forms are a tribute to the formal approach of the Ulm School.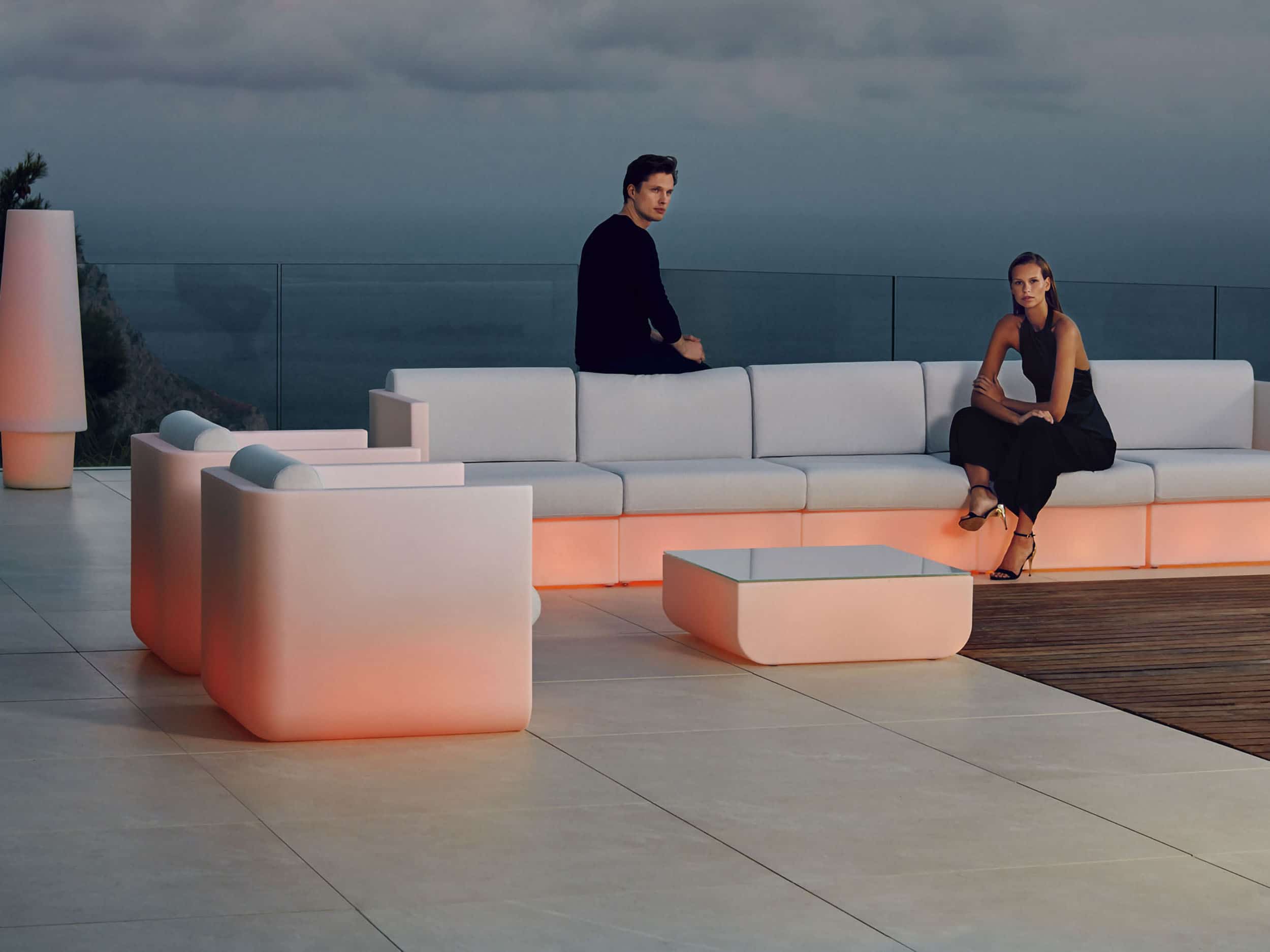 The artistic design team of Harry-Paul had two objectives with the BYE-BYE collection (shown here) — attain two completely different shapes … a geometric abstract shape  and a flowing shape from side to side. Its overall stretched appearance symbolizes journeys through space at light-speed. The fascination of BYE-BYE is contained in its contrast of a simultaneous unity, yet inner conflict.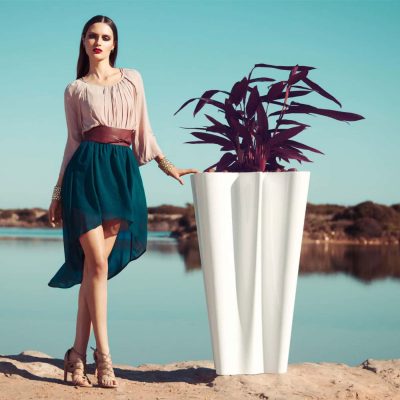 COUNTERS, BARSTOOLS, ETC.
This extensive outdoor furniture and planter collection aims to offer the comfort and the quality of interior furniture without losing it's original qualities. VELA (shown here) is a modulate system with an elementary prismatic geometry that bases its singularity in the balance of its proportions. The elements can combine among themselves to integrate into any space. Their precise volumes create the illusion of hovering some inches off the floor, and when they are illuminated they are transformed into floating architectures.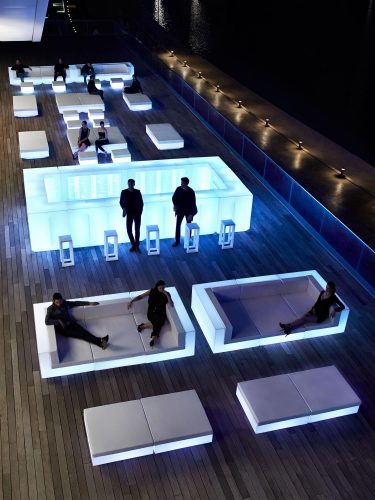 The NOMA collection (shown here), designed by Javier Mariscal for the VONDOM, is a group of outdoor items with the aim to create a new type of furniture combining a planter with an outdoor table, and thus NOMA was born — collection characterized by its originality and versatile nature. The first sketches showed natural shapes, which as the project developed leaned towards more architectural shapes.